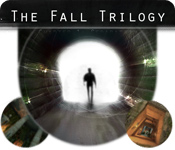 Hi Everyone!
We've uploaded over 60 screenshots from the beautifully illustrated hidden object adventure game,
The Fall Trilogy Chapter 1: The Separation
. The artwork is of very high quality, and the game introduces something new to its genre: The ability to pan the camera in any direction you like, examining each large scene in a more immersive fashion rather than flipping from one screen to the next.
Thank you for following this blog and visiting our site.
Enjoy!