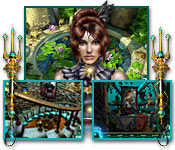 Hi Everyone!
We've uploaded over a few dozen scenes from the beautifully illustrated hidden object fantasy adventure game,
Empress of the Deep: The Darkest Secret
. Of particular interest in the artwork is how various icons make it into the ruins of this futuristic civilization, set in the 22nd century. If you pay attention to the beautifully conceived underground city, you will see various classic items and symbols represented, such as
The Thinker
, the
Statue of Liberty
, and the
Gordian Knot
.
Thank you for following this blog and visiting our site.
Enjoy!