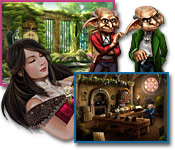 Hi Everyone!
We've uploaded 99 screenshots from the beautifully illustrated fantasy/fairy tale hidden object adventure game,
Awakening: The Dreamless Castle
. The pacing of the game is fast, and in both appearance and the tasks presented plays very much like a fairy tale.
Thank you for following this blog and visiting our site.
Enjoy!